OUR FAVORITE APARTMENTS!
Browse, choose and book one of our personally selected and tested apartments in private accommodation on the island of Lošinj.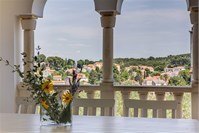 Whether you are planning a vacation dedicated to relaxing and enjoying at the beach, a short weekend, or a longer family stay, discover our best-selected apartments for your vacation on our beautiful island.
Experience sunny and scanted spring, pleasant autumn and winter, fun and warm summer by the clearest sea! :)
Check out our best-selected apartments and find the ideal one for your next vacation:
1. Apartment Alma (max. 6 people)
Spacious and light apartment on a 150 m2. Functionaly used space and elegant minimalistic furniture are made for the perfect vacation where you can relax, forget about everyday rush and take some time for yourself. This apartment is ideal for familys. There is a calming view on our picturesque little town from the terrace. You can reach the suite directly with a car. Proximity of beach and downtown area will make your visit even more enjoyable. Extremly popular house in Veli Lošinj.
2. House Encanto (max. 4 people)
This charming house is located in the center of Veli Lošinj. The house has access to the car and it's private parking is approx. 100m from the house. It is ideal for a family or couples who wolud like to enjoy life in this small town.
3. La Dolce Vita ( each max. 2 people)
Stylish, serviced apartments located 100m from the sea on a peaceful square in the heart of the bustling, historical centre of Veli Lošinj, island Lošinj. La Dolce Vita apartments stand out: Belle Epoque, Casablanca and Il postino excel among private accommodations for their top quality level. The names of the apartments recall the titles of famous movies that are focused on friendship, love, fortune, sadness, pain and conflicts, such as the elements that our lives are made of. They are ideal for couples. Let yourself be seduced by the charm of this house during your holidays.
3. Apartment Julia (max. 2 people)
This cute apartment is perfect for two people. Its specialty is a beautifully landscaped and maintained garden. It is very popular and well rated.
4. House Mandarina ( max. 9 people)
This house has 3 apartments. All apartments are s spacious, warm and comfortable. They are perfect for a family vacation. All apartments have a beautiful sea view on our harbour. There is a private parking place in vicinity, and the apartment is located in a pedestrian zone. The nearest beach is located 500 meters away. They are one of the best rated apartments on our island.
5. House Montevideo ( max. 11 people )
Montevideo house has one of the best views in town Mali Lošinj. There are four apartments in this house. Each has its own balcony with a beautiful view on our harbour. Parking place is in front of house. They are one of the best rated apartments on our island.
6. House EMMA (max. 8 osoba)
Apartments Emma are located in Artatore, in a quiet place about 50 m from the sea. Artatore is located in a bay 8 km from Mali Lošinj. The village of Artatore is one of the most beautiful island resorts. Due to the proximity of a pebble beach, the apartment is ideal for families with children, and they are one of the most popular in our offer.
7. House ANTONELLA ( max. 12-14 people)

House Antonella is situated in heart of Veli Lošinj. Consists of three apartments overlooking the beautiful harbour of Veli Lošinj. It is ideal for families and couples.
8. House ANI ( max. 10-11 people)
Apartments Ani are located in the upper part of Veli Losinj. The house consists of three different apartments, of different character. They are ideal for a larger group of guests if you want to book apartments in the same house. The apartments overlook the bay Rovenska and spacious Velebit. They have private parking directly in front of the house.
9. House POPI (max. 12 people)
The rustically and hand-decorated Popi apartments are located in a quiet area overlooking the city. There are two apartments in the house. They are ideal for a larger group of guests if you want to book apartments in the same house. They are only a few minutes walk from the quiet beach of Male Valdarke. Parking is private and located near the house.
10. House ANTJE ( max. 8 people)
House Antje is located near the small fishing port of Rovenska, which dominates the pebble beach and fishing atmosphere. There are two apartments and they are ideal for familys or couples. The house is not reachable with car. Parking place is on the main parking lot, and on payment.
Do not wait another minute and book your perfect accommodation!
More information: info@island-losinj.com
---
---