Fragrant July – Bougainvillea and Mint
The Tourism Office in cooperation with the Fragrant Island Garden is continuing with project "Fragrances and tastes of Lošinj". The event "Fragrances and Tastes of Lošinj" has spread to the whole town, camps, hotels, tourist agencies, restaurants.....The fragrance network has expanded in all forms, from floral displays, potpourri, liqueurs, juices, cakes, fragrant decorations to gastro-menus where, in various ways, autochthonous island plants are used.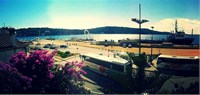 BOUGAINVILLEA (lat. Bougainvillea sp.L.)
Bougainvillea is an ornamental and common climbing plant decorating many of our island gardens.
BOUGAINVILLEA IN MY AND YOUR GARDEN
It is an evergreeen climber that loves light and the sunlight. It has beautiful flowers that may be cultivated into different colors. The most common is the pink bougainvillea.
INTERESTING DETAILS
Bougainvillea originates from tropical and subtropical areas.
IMPORTANT TO KNOW
Bougainvillea may be spread with shoots. It prospers in a slightly acid soil (pH-value of soil is from 5.5. to 7.0).
MENTHA (lat. Mentha piperita L.)
Mentha (peppermint) is a hybrid of at least 2 mentha sorts.
MENTHA IN MY AND YOUR GARDEN
Mentha is a perennial plant. It belongs to the labiates family. Its leaves are ovate shaped, and the flowers are light violets or pink.
NUTRITIVE VALUE
The mentha essential oil takes effect spasmolitically on the bronchi and the smootzh muscles of the digestion system. It stimulates bile and wind excretion. It sooths cramps. It helps in threating cases of insomnia, headache, tension, even migrane. If menthol is in contact with the skin and epithelia, it provides a cooling effect and also has a mild antiseptic effect.
CONTRAINDICATIONS:If treating an infant's face with essential oil, especially near the nose, there may be reflexive spasms.
INTERESTING DETAILS
Mentha has been cultivated in England since the end of the 17th century. Besides chamomile, mentha is the most popular and well-known medicinal plant.
IMPORTANT TO KNOW
Don't ever use ready-made products containing menthol for treatment of small children or infants because there is danger of spasmodic convulsion of the bronchi followed by suffocation.
---
---