Fragrant June– Broom, Lavender, Dwarf Everlast
Fragrant June– Broom, Lavender, Dwarf Everlast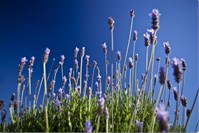 BROOM (lat. Spartium junceum L.)
BROOM IN MY AND YOUR GARDEN
The broom grows as a bush or small tree. It is decorated with yellow aromatic flowers 1-2 centimetres in diameter.
INTERESTING DETAILS
Not so long agobroom was still used instead of rope for tying.
IMPORTANT TO KNOW
It is rich in essential oils.
LAVENDER (Lat. Lavandula officinalis L.)
LAVENDER IN MY AND YOUR GARDEN
Lavender is widely spread in the overall Mediteranean area. It is easily recognizable for its violet lipped flower.
NUTRITIVE VALUE
In folk medicine lavender is appreciated for its sedative effect. It is good for digestive problems. Lavender baths are good in case of low blood pressure level and also for improving our general health condition and for refreshinf ourselves.
CONTRAINDICATIONS: none
INTERESTING DETAILS
Due to its pleasant aroma, but also because of its insecticidal effect against months, lavender wreaths are placed into closets. When lavender is planted between roses, it prevents with its aroma population of aphides on young leaves and flowering rose buds.
IMPORTANT TO KNOW
Lavender was used in aromatic baths as far back as by ancient Romans. Lavender aroma is more plaesant and has a better sedative effect than any other aromatic additive in household cleaning agents and in fabric conditioners. Lavender is procreated well with shoots, best o all in August.
DWARF EVERLAST (Helichrysum italicum Roth.G.Don)
DWARF EVERLAST IN MY AND YOUR GARDEN
The dwarf everlast grows along the coast in dry karstic abandoned grounds and rocky pastures. It may grow to be 60 cm tall.
NUTRITIVE VALUE
It has a healing efect in case of gallbladder and uric organ inflammation, but it is alsogood for other digestion system glands, especially for the pancreas. In folk medicine the dwarf everlast is often used when treating skin diseases, the vegetative nervous system as well as asthma and colds.
CONTRAINDICATIONS: none.
IMPORTANT TO KNOW
For eliminating gallbladder stones: Pour one half liter hot water over three table spoon of dwarf everlast flower. Cover with lid and leave to rest over night and drink the liquid before meals in the morning, noon and night.
---
---