Island Lošinj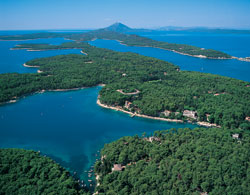 The island Lošinj is an integral part of the Cres-Lošinj cluster of islands. The Lošinj cluster includes, besides Lošinj, the islands Unije, Ilovik, Susak and Vele Srakane as well as many other little islands, which in the summer months represent a real haven for romantics and those who want to enjoy the beautiful beaches and sunshine. The whole coast is practically buzzing with very attractive creeks and beaches. Mali Lošinj is the largest destination on the island with also the largest port. It is situated right at the bottom of the bay.
In the past Cres and Lošinj were the same island, but since the man made canal at Osor failed the island split in two and are now connected via a bridge.
The Cres-Lošinj was once called Apsyrtides during the roman times, the name is linked to the mystical hero Apsyrtu.
Over the last century in these parts, every breach made by smaller or larger clans has left its mark in history.
The island was almost completely barren up until the middle of the 13th century, and since then towards the 19th century it developed into one of the biggest nautical forces, and the town Mali Lošinj became the most important port on the Adriatic, after Triest of course.
The people of Lošinj were famous as the best mariners on the Mediterranean.
Maps and cityplans can be found here.