Nerezinac Lugger – Sailing Interpretation Centre
Visit sailing Interpretation Centre of Lošinj's Maritime Heritage NEREZINAC LUGGER FROM LOŠINJ – Open-air Museum!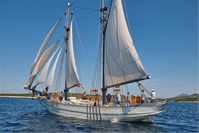 The sailboat was

restored to resemble the local lugger ships from the late 19th century

. It is moored at the Riva Lošinjskih kapetana in front of the Museum of Apoxyomenos, and in a modern, interesting, and interactive manner it presents and interprets the long and rich maritime history of the island of Lošinj.

The wooden motorboat Dražica, which was renamed to Nerezinac after refurbishment, is a valuable example of traditional shipbuilding.

It was added to the register of protected cultural goods of the Republic of Croatia in 2010.



The display covers three areas: the waterfront in front of the ship, the ship's main deck, and the steerage (former cargo hold).



Multimedia display in steerage

– presents life aboard a ship through five thematic units: crew, food, cargo, maritime routes, and construction and ship maintenance.

Presented with the basic facts about the ship, the visitors are invited to imagine possible stories and scenarios because, apart from the general information of this type of ship, the period when it was built and when it sailed, and the type of cargo it carried, there is very little concrete information about it. The history of the Nerezinac lugger is almost completely unknown.



The display on the waterfront and the main deck presents an educational board with ship's data and a workshop area

where the visitors can see some of the traditional shipbuilding skills, ship maintenance, or experience sailing and steering skills on the main deck: caulking, sail repair, how to plane wood, filing, driving treenails, steam bending planks, tying boating knots, cleaning the main deck, blowing the horn, lifting the visitors with pulley, raising the sails, and other.



The ship also participates in tourist events that include regattas of traditional boats.




This navigational interpretation centre is moored in front of the Museum of Apoxyomenos in Mali Lošinj!
It is possible to visit
from Monday to Saturday in time: 9 AM - 1 PM / 5 PM - 8 PM (Sunday closed)
.
---
---