Food and drinks
The natural wealth of the Cres and Lošinj archipelago provides the basis for the rich and healthy Mediterranean cuisine.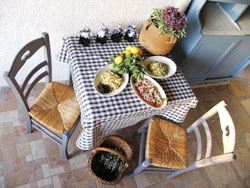 The main characteristics of this cuisine are fish and seafood specialities, dishes based on traditional island recipes, use of local aromatic herbs, pot herbs and olive oil.
Smoked ham, sheep's cheese, salted anchovies, seafood salad are some of the cold starters that you should try. For a hot side dish you can have seafood risotto or pasta, minestra or brodetto Dalmatian style. Fresh sea fish, scampi and squid, prepared in various ways, shellfish, roast lamb under peka (earthen baking lid) are the island specialities. Typical local salad is arugula and radicchio. Dishes are seasoned with fresh oregano, basil, sage, balm, thyme, rosemary and laurel.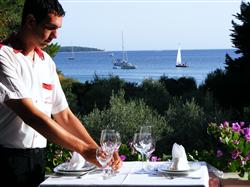 Do not leave out wine and home-made brandy with aromatic herbs. We recommend the local wines from the island of Susak.
All over the island there are restaurants, taverns and other catering establishments, where you can enjoy international dishes and national specialities, as well as local island specialities.
You can read more about the island cuisine in the following books:
Cooking Challenges from My Island by Adrijano Nikolić
Granny's Island Cook-Book by Marta Fazlić
A haven of gastronomic delight...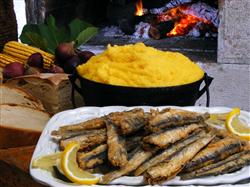 Over a hundred catering facilities operate on the Island of Lošinj, as well as the surrounding islands. Numerous restaurants, taverns, bistros, buffets and pizzerias provide a rich and diverse range of culinary delights. Specialties based on seafood, dishes made according to traditional recipes with the ever-present wild plants and aromatic herbs, natural condiments and olive oil are the basic staples of the local cuisine.
Prosciutto, salted pilchards and mollusk salads are some of the cold appetizers you should not miss. As for warm appetizers, choose between the various risottos and pastas with seafood, maneštras and home-made brodetto. Fresh sea fish, shrimp and squid prepared in different ways, seashells and lamb baked under a lid are some of the succulent specialties that this island has to offer. Try a homemade salad like arugula and chicory, and enjoy the fresh marjoram, basil, sage, balm, thyme, rosemary and laurel they add to the food.
Make sure you try the wine and home-made herbal brandy. We recommend the local wines from the island of Susak. Once upon a time, as much as 95% of the island was covered with vine. Nowadays, it is no longer a ''floating vineyard'', but it still has its autochthonous varieties of dark grapes – Susac and Sušćan crni – as well as a variety of unknown origin called Trojišćina (Uva di Troia), the grapes of which are used locally for production of high- quality rosé under the same name.
BARACUDA (Inn)

Drago Rančić
Priko 31
drago.rancic@inet.hr
+385 51 233 309


ARTATORE (Restaurant)

Specialities: Cream of crayfish soup island style / Oven baked fish with potatoes and herbs
Janja i Marjan Zabavnik
Artatore 132
info@restaurant-artatore.hr
+385 51 232 932


BUKALETA (Tavern-Pizzeria)

Specialities: Lamb baked under "peka" –an iron cover with spring potatoes / Squid "Lošinj" in sauce with polenta Dalibor Janković
Del Conte Giovanni 9
+385 98 258 415

CIGALE (Tavern)

Specialities: Dusky grouper baked under "peka" –an iron cover with capers, spring potatoes, rosemary and basil / Monk fish with rocket salad, coarse ground pepper, radish and grated slices of Parmesan cheese
Čikat bb
+385 51 238 583

CORRADO (Tavern)

Specialities: Oven baked fish / Lobster buzzara- wine sauce local style
Igor i Katica Morin
Svete Marije 1
+385 51 232 487


MARINA (Inn)

Specialities: Scallop "a la Marina" / Spiny lobster "a la Bellevue"
Vlado Vidas
OMT 38
+385 51 236 178
vlado.vidas@ri.t-com.hr

RIBARSKA KOLIBA (Tavern)

Gordana i Mirjana Gagić
OMT 1a

BORA BAR (Tavern)

Specialities: Tuna fish - carpaccio with celery root / Thunfisch / Ricotta Gnocchi – dumplings with fresh summer truffles
Marco Sasso
Rovenska 3
+385 51 867 544
balenovicmaja@hotmail.com
www.borabar.com


DRAGA (Pizzeria)

Zorica Vidulić
Braće Vidulića 77
+385 51 231 132
zorica.vidulic@ri.t-com.hr

Deveron gastro pub

The Deveron Gastro Pub is open all year round.
Apart from the standard menu, it also offers hot chocolate, mulled wine, sweets and cake in December, as well as various fish and meat specialities.
vl. Ivan Milanović
Vladimira Gortana 32, Mali Lošinj
+385 51 238 510
deveronpub@gmail.com


Bocca vera

Caffe bar and restaurant Bocca vera is located in the street Riva lošinjskih kapetana, in the heart of the town of Mali Lošinj.
vl. Drago Rančić
Riva Lošinjskih Kapetana 10, Mali Lošinj
+385 51 238 511
boccavera.mlosinj@gmail.com


El Paso

Rustic decorated little restaurant located right next to the airport in Ćunski. Here you can taste the best grilled meat and burgers.
vl. Griša Kamalić
Ćunski BB , 51564 Ćunski
+385 98 363 206

Attractions
Don't cry over spilt milk. It's piece of cake to find everything you need to know about food and drink. Even if you're as cool as a cucumber when it comes to cooking, you may need more information about food and drink if you want your recipe ideas to sell like hotcakes. Learn all about food and drink so that you can be the big cheese at your next dinner party. Even if cooking isn't your cup of tea, you will be able to find ways to use food and drinks to create meals that will have your family and friends buttering up to you wanting more.
Whether you're a well-seasoned chef, an amateur cook, or just have a passion or love for food, you will find information about food and drink that will help you to discover some specialties from island Lošinj...
Wine from island Susak
Visit fish market in the main harbour Veli Lošinj, that was built in 1898. Specifically for the fish market in Veli Lošinj is that it is open only when fishermen's cathc a fish ... So, it's ver unusual and enigmatic, never know when you find some fish and what you find there...
Visit fish market in the main harbour Mali Lošinj, every day from 8 till 12 pm
Old olive mill for olives - «torać» in Ćunski open to visitors during the summer months. As part of its rich inheritance, the wish is to present and exhibit to tourists the reconstruction of TORAĆ – the only remaining old mill for olives (so-called «TORAĆ» in the local dialect) was built in 1897.
The Lošinj Aromatic Garden – a nursery of the island medicinal herbs in Mali Lošinj. Accompanied by a qualified guide, visitors can find out about the rich island flora, the medicinal properties of the island plants and buy an original island souvenir.
Garden Products
Garden liqueur ORANGE, Queen of citrus fruits, winter fruit decorates Losinjs gardens, in summer well as liquor stored in the traditional way of Losinj, and refreshing challenge. ORANGE liqueur served in the evening with a glass of ice straw and leaves of mint, with Losinj cookie FIGETINO.
Garden liqueur SAGE is the island's self-grown plant with the largest range of medicinal properties. LIKER of SAGE is a balm for our digested and gastric very effective natural analgesic. Drink it when you do not feel the best or the prevention of such state and the chilled to 8-10C or addition of Lošinj tea.
Garden liqueur MYRTLE, this being sung evergreen Mediterranean, in the form of liquor MYRTLE made so sweet Losinj island garden, is an excellent natural digestive recommend that for better digestion of the abundant food and drink in a tavern of Losinj.
Garden liqueur Liqueur Lemon - limoncello made from lemons by lošinj recipe sweet island gardens - rich with Vitamin C, and opens only be consumed chilled as an aperitif or as the basis of various cocktail bars in Lošinj.
Garden bath FRAGRANCES bath large Adriatic sea salt enriched with scented oils and flowers and leaves of rosemary is the best relaxation for tired legs after wandering or cycling lošinjs landscapes.
Fragrance salt LOŠINJ is a spice for a variety of local salads, soups and sauces for pasta. Contains a major Adriatic salt sheets sage, rosemary, bay leaves, thyme.
Sweet tea LOŠINJ is a special blend of tea with the geographical origin with our sweet island. List of sage, pomegranate flower and leaf eucalyptus are highly energetic and warm drink that drink in the morning for a better mood and more cheerful view of the future. Protected product Losinj island sweet garden.
Fragrant bouquets LOŠINJ: sweet island flowers garden center is fragrant Losinj seasonal wild plants that will guide you or your beloved for a long time to remind our sweet island. When you stop to smell a sign we need to come back to visit.
Sweet island books FRAGRANCES: Island is a pocket guide that you met with wild and domesticated mainly scented plants that are widespread in our fragrant island. 70 aromatic plants and their landscape plant neighbors described as popular with many interesting and dash along with numerous photographs. The authors are: Sandra Nicolich, owner of sweet island garden and Nikolina Ribarić, professor and writer of textbooks written from nature. Croatian, English, German and Italian edition in 167 pages in the semi-hard casing.