Something new on our web page!!
Welcome to an interactive panorama of the island of Lošinj website on which there are no traps. It is our goal to ensure a complete and accurate information on accommodation and the island itself and therefore we have engaged the best photographers to provide you with the entire panorama of our island.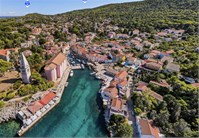 Wishing to book your accommodation online but you haven't tried it yet and you don't want to make any mistakes? Or you have but on arrival were dissappointed by the fact that 50 m from the sea meant 50 m height above sea-level and you also needed to walk to your apartment 30 min up the hill?
You expected to see a sandy beach but it took you 30 km to get there?
This panoramic map of the island helps you to prepare yourself for your holidays without stress and worry.
By clicking on the interactive dot you can see the position of your chosen apartment.
If you like it you can send us a request for your booking. If not, continue your search – each dot represents one apartment which is waiting impatiently maybe just for you. Unlabeled dots of accommodating units will be labeled and sent to you in our offer.
For easier view of the panorama choose the full-screen view.
They are a perfect tool for stress relief and we don't mind if occassionally you browse through them in your office or share them among yor friends and colleagues.
---
---