Griffons
Eco-center Caput Insulae - Beli (ECCIB) is a non-governmental organisation founded in 1993. by Mr. Goran Susic, PhD, with the aim of protecting the critically endangered Eurasian Griffon vultures, as well as the natural resources, and the cultural and historical heritage of Cres island. At that time ECCIB was a subsidiary of the NGO called 'Svanimir' and it moved into the abandoned building of the elementary school in Beli. It became an independent NGO for the protection of natural, cultural and historical heritage in 1995.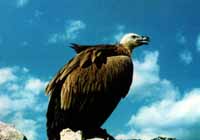 The building of ECCIB hosts two permanent exhibitions: Biodiversity of the Cres-Losinj Archipelago and The History of Beli and Tramuntana. This is also the starting point of a unique exhibition in the open, History and Art in Nature.
EECCIB is running the project of revitalisation of Tramuntana, with the aim of preserving and sustainable development of the traditional activities and values of Beli and its wider area.
A large number of Croatian and international volunteers are engaged in the activities of camps and summer-schools, helping us to realise our aims and objectives. Programmes for volunteers are an important part of our NGO since its beginning in 1993. Volunteers join various projects and thus contribute to the fundamental objective of the ECCIB, which is the protection of the natural resources and the cultural and historical heritage of the whole island of Cres, Tramuntana, and the village Beli. Through their activities, the volunteers meet other people of different ages and backgrounds, and learn about the island and Croatia in general.