Nerezine
On the eastern side of the island, at the foot of Osorščica lies Nerezine. Only in recent times, with the development of marine navigation and shipbuilding, the settlement acquired the characteristic of costal settlement. The settlement started to develop in the proximity of cultivable fields, on the slopes or surrounding hilltops. In the past Nerezinas were closely bonded to Osor's destiny. Char mastic image of Nerezine is given by St. Frances Monastery and its bell tower.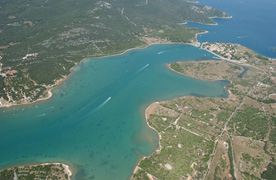 In the 1534 was built the church of St. Mary Magdalene. As in the most other costal settlements, the golden years of marine navigation and shipping dictated new necessities. With population growth and the settlement's coming closer to the sea, the church also had to move. The new parish church is right to the main town square. During the period of 1875 to 1877 were built the port and shipyard. Nerezine today has about 400 inhabitants, but once it had 2000 inhabitants. The house are not crowded next to each other, except the around is the main Studenac square.
Nerezine is most beautiful during the spring and beginning of summer, when nature is blooming. The gardens and yards are full of roses and other flowers.
As tourist destination Nerezine was discovered by some flurry tourist in visit of Osorščica Mountain - which is proclaimed the most beautiful mountain in the Adriatic.
Places to visit
Francisian Monastery, the parish church (middle of 19th century
Tower under the hill
Maps and cityplans can be found here.