La Dolce Vita Residence
Stylish, serviced apartments located 100m from the sea on a peaceful square in the heart of the bustling, historical centre of Veli Lošinj, island Lošinj.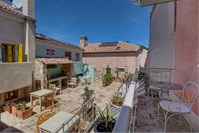 The Perfect Place to Stay on island Lošinj
5 minutes from the ferry port
Professionally designed
Eco-conscious
Reused antiques and old stones from local old houses
Bikes included in the price
Historical location
Air Conditioning
Peaceful setting
Luxury interiors
1 minute to Veli Lošinj Centre
Hike from your door
In the heart of town
Wonderful restaurants & bars close by
Personalised Service
Among our offers, La Dolce Vita apartments stand out: Belle Epoque, Casablanca and Il postino excel among private accommodations for their top quality level. The names of the apartments recall the titles of famous movies that are focused on friendship, love, fortune, sadness, pain and conflicts, such as the elements that our lives are made of.
The BELLE EPOQUE apartment invites to relax, just like the movie having the same title that tells the story of Don Malone's four beautiful daughters coming home for summer holidays. Fernando, a young republican man, is seduced by Clara, just divorced, the charming Violeta, the intriguing Rocio and the young Luz. Let yourself be seduced by the charm of this accommodation during your holidays.
CASABLANCA apartment, named after the famous movie, has got a 42 m2 surface. Characterized by modern furniture, this two-floor apartment is included in the structure called "La Dolce Vita", which is situated in the heart of Veli Losinj, close to the town center.

In the apartment IL POSTINO called after Il postino you can breathe the peace of a timeless story based on friendship, poetry and love.
---
---