"YOUR OWN RHYTHM OF SENSES" - Cres – Lošinj (NATURA 2000)
Promotion of an innovative eco-tourist package in the protected marine area of Cres - Lošinj (NATURA 2000) as part of the INTERREG DestiMED PLUS project.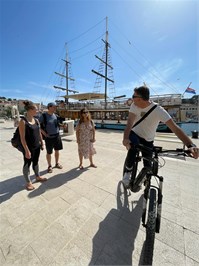 These days, the marine protected area of ​​Cres - Lošinj (NATURA 2000) is once again at the center of European attention in order to hold a short edition of a promotional trip created by a pilot ecotourism product that combines tourism and sustainable development! Selected international bloggers, influencers and representatives of tour operators of the Western European market are currently staying on the island of Lošinj. ", Which was created in cooperation with the local community with numerous regional and national bodies, and under the leadership of the Institute of Tourism in Zagreb.


The Ministry of Tourism and Sports and the County of Primorje-Gorski Kotar are also involved in the project. The entire program takes place in the marine protected area Cres - Lošinj under the protection of NATURA 2000. Selected travelers will enjoy a specially designed itinerary based on the development of tourist products and services outside the main tourist season and which contributes to environmental protection primarily through conservation program. The entire program includes local tourism products and services as well as local tourism service providers and employees in order to maintain revenue at the local level with minimal impact on the environment and living.


The theme of the arrangement was created in the desire to introduce guests to the true island rhythm that Lošinj breathes and lives, through the activation of all the senses of tourists by days (Sight and Taste Day, Scent and Touch Day, Sound Day). The arrangement itself includes the "best of" activities of the protected area, but newly created eco-activities created during the project that can be experienced only as part of this trip. The whole package is marked by the ecotourism quality of the MEET Network brand, and a market for experienced, solvent, environmentally responsible and adventurous middle-aged travelers, English and German-speaking travelers who enjoy a combination of outdoor activities and psychophysical recreation, local gastronomy, culture, nature and tradition. interacting with the local population through a variety of creative workshops, experiences and visits.


After good examples of the practice of the previous DestiMED project and the development of eco products in the destinations PP Lastovo Islands and NP Kornati, it is certain that the DestiMED PLUS project will positively affect the quality development and visibility of the marine protected area Cres - Lošinj as a green (eco) destination.


You can see the program of the short edition of this trip on our website.
---
---