Visit Museums on island Losinj!
Churches, monasteries, Renaissance buildings, basilicas and remnants from the ancient times can be found all over the island.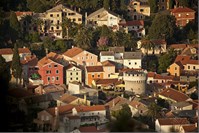 An exceptionally rich art collection by Croatian artists donated by Andro Vid and Katarina Mihičić, and a collection by European artists donated by Giuseppe Piperate, are stored at the gallery Fritzi in Mali Lošinj.

Kula (The Tower), a museum-gallery space located in Veli Lošinj, testifies to the maritime tradition of the island. The permanent exhibition presents the rich history of Lošinj highlighting its famous maritime past. Apart from the permanent exhibition, additional space is provided for occasional art and museum exhibitions.
The discovery of the famous sculpture, presenting APOXSYOMENOS, a Greek athlete, which was found in 1999 in the Lošinj underwater, also testifies to the rich cultural life of the island.

Museum of Apoxyomenos - This unique museum is dedicated to the statue of Apoxyomenos whose story begins at the very entrance in the blue room on the ground floor. The nine scenes of each room offer exquisite sensory experiences. By means of taste, smell, hearing, and vision, the visitors can fully and individually experience the Apoxyomenos, as well as the destination of the island of vitality, one of the most beautiful spots on the Mediterranean.

The town of Osor is in fact an outdoor museum in which artists from all stylistic epochs have left their marks (it includes works by contemporary artists such as Meštrović as well as remnants of ancient walls, forts, and the first Early-Christian basilica). It is a town-museum with gardens and parks in which traces of ancient villas, Renaissance portals and monasteries are hidden. During the summer, this town that represents history and a museum at the same time becomes a unique scene abounding in cultural events among which we put special emphasis on the Osor Musical Evenings.
---
---