Fragrant September – Jujube, Grapes, Indian Fig Opuntia and Rock Samphire
The Tourism Office in cooperation with the Fragrant Island Garden is continuing with project "Fragrances and tastes of Lošinj". The event "Fragrances and Tastes of Lošinj" has spread to the whole town, camps, hotels, tourist agencies, restaurants.....The fragrance network has expanded in all forms, from floral displays, potpourri, liqueurs, juices, cakes, fragrant decorations to gastro-menus where, in various ways, autochthonous island plants are used.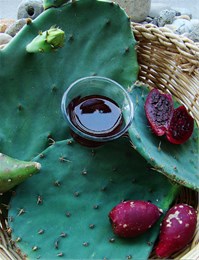 GRAPE (lat. Vitis vinifera)
GRAPE IN OUR GARDENS
Common grape vine (vitis vinifiera) belongs to Vitaceae family. Along with olives, cereal, and figs, it is the oldest cultivated plant on the island. A great number of Roman amphora that were used to transport the wine from Greece to the north of Adriatic have been found in the waters of the Cres-Lošinj archipelago which shows that this was a rich trading route, especially the one through the Osor canal. Common grape vine is a liane growing to 5-15 m high, forming a flaky bark. Depending on the variety, the leaves come in different shapes and nuances of green. An interesting fact is that the flowers blossom only four to five days. The fruit grows in a bunch, and the colour of berries ranges from dark blue to black, or pale yellow to red. The fruit ripens from August to October, depending on the variety and the area. Common grape vine has been cultivated for over 4000 years. It was spread from Caucasus, Iran, and Afghanistan to Egypt, and later to Greece and Italy. It spread to both North and Latin America after their discovery. Nowadays it is cultivated on every continent, and it can also be found in the southernmost parts of Siberia.
IMPORTANT TO KNOW
Wine is not recommended as an aperitif. If taken on an empty stomach, it has a negative effect on the liver. This organ contains an enzyme that turns wine into acetic acid that the body uses in the same way as sugars, hence the feeling of hunger.
INTERESTING FACTS
There are about 130 indigenous grape varieties in Croatia. It has been cultivated since the old times. When the Greek arrived, they developed the cultivated vineyards which were later expanded by ancient Croats. During the reign of Duke Mutimir an officer of the court called the cup-bearer was in charge of guarding and pouring his wine. In 1888 the total area covered with vineyards in today's Croatia was 172.000 hectares, three times larger than today. The image of the vine can be found on 2 lipa coin which proves its importance for this area.
SAMPHIRE (Crithmum maritimum L.)
SAMPHIRE IN OUR GARDENS
This perennial plant grows along the coast and on the islands in large groups of semi-bushes near the sea, on cliffs, walls, and rooftops and it can reach up to 50 cm in height. It has a smooth, yellow and green stem that branches into shield-like blossom with small flowers of the same colour. The foliage is succulent and shiny, light green to dark green, in the shape of narrow lances and pulpy, growing in even branches. It flowers from April to August.
NUTRITIVE VALUE
It has a strong aromatic, refreshing, and salty taste. The leaves are tangy and salty. Its aromatic scent comes from the essential oil whose main ingredient is dillapiole. Samphire is a medicinal plant that contains carotene, vitamin C, sea salt, amino acids, coumarins, flavonoids, and essential oil. The leaves are conserved in vinegar. They are picked in spring before bloom and dried in a warm and airy place. The seeds, on the other hand, are used to make oil and are usually collected in September and October by tying them in bundles and drying in a warm, dark, and airy place.
IMPORTANT TO KNOW
Fresh samphire's strong taste and scent can be reduced if the leaves are dried before use or soaked in vinegar. It is recommended to pick samphire and dry it three to five days before use because the drying process causes the essential oil to evaporate.
INTERESTING FACTS
Samphire is mentioned in Greek mythology where goddess Hecate prepares a samphire meal for Theseus. In Italy it is called 'herba di San Pietro' because its leaves are ready for picking around the holidays of St. Peter and Paul, on 29th June. William Shakespeare mentions samphire in his play "King Lear" where he says: "Half-way down hangs one that gatherssamphire; dreadful trade!"
PRICKLY PEAR (Opuntia ficus-indica L.)
PRICKLY PEAR IN MY AND YOUR GARDEN
A large beautiful prickly pear may be seen in Lošinj's center, in front of the Kvarner palace, the future Lošinj museum. This cactus resembles a tree that is very expanded in its upper part, and the branches of which are fleshly spatulas covered with numerous dangerous thorns over-grown with tufts of short yellow hair. It flowers from May till August and has bright yellow or orange flowers that turn into plum-like purple edible fruit in autumn.
INTERESTING DETAILS
The red color used in making lipsticks is produced from cochineal insects, especially female ones; the tiny shield-shaped pests that feed on prickly pear. the color is derived from dried and pounded insect bodies.
IMPORTANT TO KNOW
Pick the prickly pears wearing gloves because thousands of thorns are a danger to your hands. If you prick yourself anyway, you will remove the thorns easily if you heat a candle and place the molten wax on the pricked spot. When the wax cools down, the thorns will be easily extracted.
JUJUBE (lat. Zizyphus jujuba L.)
Also known as Chinese Date. Very interesting and decorative tree.
JUJUBE IN MY AND YOUR GARDEN
Nobody can pass by the garden with jujube inside without noticing it. Its look is unusual. Its long branches are bent and thorny. The leaves are shiny and green, ovate and acute. The fruit is green and oval and when mature red and brownish resembling an olive.
NUTRITIVE VALUE
Rich in vitamin C. Fruits are used fresh or dried and are excellent for jams, juices and brandy. In people's medicine jujube is used for lowering high blood pressure. It is also used as a treatment for stomach and digestion problems.
CONTRAINDICATIONS: Unknown.
INTERESTING
It can survive the temperature of -25°C. In summer, it is resilient to drought and no pesticides, herbicides etc. are required.
IMPORTANT
It can be shaped as a shrub or tree. Paring is not necessary. Only dry branches or the ones that are too long are removed. Jujube will not grow on hard and water-retaining soil. The tree bears fruit for the first time 3 years after planting. Along the pathways, across stonewalls and over the terrain down to the sea, wherever a human foot or sheep's hoof has trod, lashed and shrivelled by the bora, fig trees crouch offering their honeyed fruits to the wandering traveller. The fig, along with sage-honey, was the only source of sugar in the past: long forgotten, it has now made a comeback to the Lošinj menu in the form of all sorts of sweet delicacies. When you return to the town, to the small fragrance fair in the Garden of Fine Scents, home-made sweet delicacies await you from figs and jujube an ideal offering- reminder of the unforgettable September fragrances in Lošinj.
---
---