Mali Lošinj selected in the Top 100 sustainable destinations in the world!
The global conference dedicated to sustainable destination management and the Sustainable Destinations Top 100 award ceremony have been held for the sixth year in a row, this year organizers opting for the first time for an online edition of the events. Mali Lošinj has once again been selected among the top-class destinations of the world, and this year it participated in two categories – Best of Culture and Communities and Best of Nature and Ecotourism.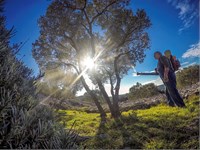 The Sustainable Top 100 Destinationscompetition is organised to showcase sustainable tourism and good practice stories and to share inspirational examples with other destinations, tour operators and travellers. By publishing the Top 100 list, presenting good practice awards and sharing success stories on destination management, competition organizers acknowledge the steps taken towards making tourist destinations more sustainable, responsible and more attractive to visitors.
This year, the selection was more than ever determined by the quality, effectiveness and transferability of the good practice stories that were submitted by the destinations. The selection procedure was coordinated by Green Destinations, while nominations were evaluated by the Sustainable Top 100 Team, experts from across the globe and Green Destination partners.
"Sustainable development management is a responsibility of strategic importance and is implemented at all levels of the destination, which is proven by the fact that this is the fifth time that we have been selected among the world's top 100 sustainable destinations. Mali Lošinj Tourist Board is one of the models of sustainable development in Croatia. We were among the first to join the European Commission's ETIS project (European Tourism Indicators System for sustainable destination management) and we participate in the Croatian Sustainable Tourism Observatory (CROSTO) project, as well as many other projects. This year, we decided to present the Integrated Quality Management in the destination (IQM) project as an example of good practice, considering that it connects 130 stakeholders in the destination with the aim of improving quality of all tourism industry segments, raising quality standards, stakeholder connectivity and recognition of Lošinj as a top-class tourist destination. We are delighted by the fact that Lika Destination has also been included among the top 100 sustainable destinations of the world, which proves that our strategy of sustainable and balanced tourism development and environmental protection is headed towards the right direction," said Dalibor Cvitković, director of the Mali Lošinj Tourist Board.
This leading global conference and competition dedicated to sustainable destination management are held under the auspices of the Top 100 Partnership, with special contributions from:
Green Destinations, QualityCoast, TravelMole, Vision on Sustainable Tourism, Travelife, ITB Berlin, Asian Ecotourism Network, Ecotourism Australia and GLP Films.
More info about Green Destinations.
---
---