Covid-19 Testing within the Area of the Town of Mali Lošinj
Find all test locations in the area of the Town of Mali Lošinj.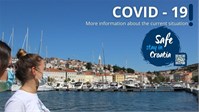 • PCR TESTING •


• THE LOCATION: Teaching Institute for Public Health (Nastavni zavod za javno zdravstvo), Dominika Skopinića 4, Mali Lošinj
• PRICE OF THE SWAB TEST: HRK 490,00
• METHOD OF PAYMENT: only in cash
• TESTING TIME:
Mondays, Tuesdays,Thursdays and Fridaysfrom 8 a.m. to 9 a.m
Saturdays from 8 a.m to 10 a.m.
• OTHER NOTES:
• Swab testing will not be provided on public holidays, Wednesdays and Sundays.
• The results are received by email or in person at the local branch
• Before taking the test, please fill out the following FORM.


• RAPID ANTIGEN TESTING •

1. PRIMORJE-GORSKI KOTAR COUNTY HEALTH CENTRE – MALI LOŠINJ BRANCH
• THE LOCATION: Primorje-Gorski Kotar County Health Centre - Mali Lošinj
• PRICE OF THE TEST: HRK 150,00
• METHOD OF PAYMENT: only in cash
• TESTING TIME:
TESTING TIME MAY 2021
Monday - Friday: 7:30 a.m. - 3:00 p.m.
Saturday: 8:00 a.m. - 12:00 p.m.

TESTING TIME JUNE 2021
Monday - Friday: 7:30 a.m. - 9:30 a.m. ; 1:30 - 2:30 p.m. ; 7:30 - 8:30 p.m.
Saturday: 9:00 a.m. - 12:00 p.m.

• OTHER NOTES:
• It is necessary to make an appointment for testing at e-mail: rapid.covid.losinj@domzdravlja-pgz.hr

The email should include the following information:
– name and surname
– place and address of residence
– telephone number

• They will contact you as soon as possible after receiving the email to schedule the location and time of the test.
• The test results are available after 15 minutes

2. SUNNY BAY, PARKING (STARTING FROM SATURDAY, MAY 29TH, 2021)
• THE LOCATION: Parking near the Sunny bay
• PRICE OF THE TEST: HRK 100,00
• METHOD OF PAYMENT: cash & credit cards
• TESTING TIME: everyday (from saturday, may 29th) 8:00 a.m. - 12:00 p.m
• OTHER NOTES:
• No prior notice is required
• The guest is identified by an ID card or passport
• Test results are available after 15 minutes

3. SPECIALIST INTERNAL MEDICINE PRACTICE ANAMARIJA MARGAN ŠULC, MD, MSc, internal medicine specialist
• THE LOCATION: Sunčana uvala 4 (Hotel Aurora), Mali Lošinj
• PRICE OF THE TEST: HRK 250,00
• TESTING TIME: every working day
• OTHER NOTES:
• Please schedule your appointment for testing at:
T. 051 / 667 -272 ; 098 259 592
E. anamarija.margan@gmail.com ; anamarija.margan@ri.t-com.hr
• Test results are available after 15 minutes





• SEROLOGICAL TESTS FOR DETECTING ANTI-SARS-CoV-2 Igs •


1. SEROLOGICAL TESTING – IgG and IgM
• LOCATION: Specialist Internal Medicine Practice Anamarija Margan Šulc, MD, MSc (Specijalistička internistička ordinacija mr.sc.dr. Anamarija Margan Šulc), internal medicine specialist, Sunčana uvala 4, (Hotel Aurora), Mali Lošinj
• PRICE OF THE TEST: HRK 480,00
• TESTING TIME: every working day
• OTHER NOTES:
• Please schedule your appointment for testing at:
T. 051 / 667 -272 ; 098 259 592
E. anamarija.margan@gmail.com; anamarija.margan@ri.t-com.hr
• The test results are available after 24 hours


2. SEROLOGICAL Igs TESTING – RIJEKA
• LOCATION: Krešimirova 52a, Rijeka
• PRICE OF THE TEST: HRK 130,00
---
---