Carnival time
There is a long and well-known carnival tradition on the entire Kvarner Bay area, including these islands.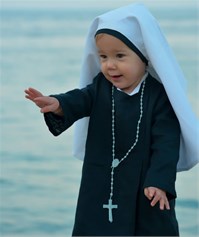 The tradition of wearing masks dates back to prehistory, and it later became known as the Carnival taking its traditional form of entertainment, relaxing, enjoying life.
Every Saturday carnival parties are organized in all places on the Island of Lošinj with culmination on Tuesday (13.2.) with a carnival parade held in the town and the reading of Testament in front of the gathered crowd. It is written in dialect and mentions all important events that happened during the year, giving funny comments from the perspective of an ordinary man. At the end, a puppet that symbolizes "Pust" is burned at the stake and punished for all sins and pranks committed during the year, that disappear in the ashes along with him.
CARNIVAL IN MALI LOŠINJ - PROGRAM:
Program:

26.1.
Opening ceremony 2019. & Costume party (Town Keys Handover), Guest house Helios
2.2.
Costume party (Carnival Queen Contest), Guest house Helios
9.2.
Costume party, Guest house Helios
16.2.
Costume party, Guest house Helios
23.2.
MareMonada- Carnival boat race, trg RH, Mali Lošinj
Costume party, Guest house Helios
2.3.
Costume party, Guest house Helios
5.3.
Pust Tuesday - CHILDREN'S CARNIVAL PARADE, Mali Lošinj Main square, Riva lošinjskih kapetana, at 10 a.m.
GREAT CARNIVAL PARADE – READINGS OF THE TESTAMENT & RITUAL BURNING OF THE EFFIGY, at 3,p.m.
MASQUERADE BALL, Guest house Helios, at 9.p.m.
Join us in cheerful carnival parade!
More info: info@island-losinj.com
---
---