51st Year's Cup in Spear-fishing
The enthusiasts from SRD "Udice", the organizers of spear-fishing competition, came up with an idea to organize a spear-fishing competition on the Eve of New Year. While the entire Europe is covered in snow, Mali Lošinj has a very pleasant weather, so this is the way to draw the attention of the public and guests on the mild climate of Lošinj.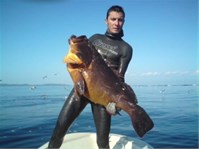 The idea was realized in 1959 and this tradition of holding New Year spear-fishing competitions has remained active up to today.
Programm:
28 December – Open-air exhibitions – Subject: Fish
Various exhibitions, children's workshops, presentations, games
Mali Lošinj – main town square, start at 10 AM
29 December – Opening of the New Year's Spearfishing Cup
6 PM – verification of participants
7 PM – official opening of the 51st New Year's Spearfishing Cup
8 PM – performance by Klapa Godimenti
Mali Lošinj – main town square
30 December - 51st New Year's Spearfishing Cup
5 PM – catch weighing
7 PM – awards ceremony
Mali Lošinj – Sports Hall at Bočac
Spearfishing Fête
Performance by Klapa Kampanel
Mali Lošinj – main town square, start at 8 PM
Organizers:
Town of Mali Lošinj, Town of Mali Lošinj Tourism Office, Open University-Mali Lošinj, SRD Udica-Mali Lošinj, SD Škarpina - Nerezine
More info:
---
---