Fragrant August - Fig, Oleander and Medlar
Fragrant August - Fig, Oleander and Medlar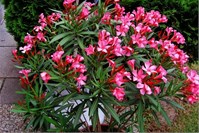 OLEANDER (Lat. Nerium oleander L.)
OLEANDER IN MY AND YOUR GARDEN
The oleander is an evergreen bush with pointed leathery opposite leaves. It may grow up to a height of 4 meters. It is an ornamental bush, but also has toxic properties.
INTERESTING DETAILS
Oleander has been cultivated as far back as by the ancient Greeks and Romans. In Greek nerion means water and moisture, and it is assumed that the name oleander was given based on its characteristic features-the need for plenty of water.
IMPORTANT TO KNOW
Oleander can be procreated with seeds or with shoots. The oleander is a very poisonous plant because even a small quantity of the bitter milky juice containing glycoside can provoke vomiting. It can cause alergic reactions and skin damage. The most toxic parts of the oleander are its bark and leaves. So, be careful!
LOQUAT (lat. Eriobotrya japonica)
LOQUAT IN MY AND YOUR GARDEN
The Loquat is an evergreen tree and may grow to a height of 8 meters. Thw tree-top takes the shape of a sphee. The leaves are long, dark-green and pronouncedly wrinkled. Aromatic white flowers are gathered in clusters. The fruit is yellow and palatable. In the open it prospers in areas where the climate is mild.
INTERESTING DETAILS
The Loquat was brought to our regions from Japan at the end of the 17th century.
IMPORTANT TO KNOW
It does not thrive in areas where the temperature often drops below 0 °C. The fruit is best eaten fresh.
FIG TREE (Ficus carica L.)
FIG TREE IN MY AND YOUR GARDEN
The fig tree is a plant growing wild between rocks and walls. It is often cultivated as well. The tree is deciduous, and may grow to be more than a meter in diameter. It may grow as a shrub. It has a wide and outspread tree top. The bark is grey, light and smooth and is abundand in thik milky juice, as are all the other plant parts.
NUTRITIVE VALUE
The fruit is mellow and sweet and is rich in calcium, iron, magnesium, vitamin B6 and potassium. It contains a small quantity of fats and a lot of fiber.
INTERESTING DETAILS
It symbolizes life, peace, prosperity and fertility. in folk medicine the tree is used for treating constipation, toothache, swelling, coughs, and warts, inflammation of the throat, ulcers and abscesses.
IMPORTANT TO KNOW
Fig tea may help in curing throat diseas, respiratory organs, the liver and the bladder, and gallbladder stones.
---
---