Lošinj school of interior design
Wake up the creative person inside you! With the help of experts, learn about the elements and principles of designing, learn about the materials and design a space in a modern, rustic, Mediterranean, minimalistic or eclectic fashion.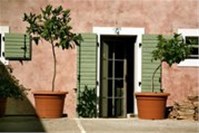 Details have always been essential to creation of the final atmosphere because their presence can transform space very simply in terms of style. In addition to style, they create ambiences appropriate to specific occasions or seasons.

The island of Lošinj is full of details, colors and styles. Each historical era has left its defining points in design, which have normally been connected to the lifestyle of each era. The modern pace of life is very quick and focused on convenience and simplicity in all segments of life, so it is only logical to implement minimalism in interior design.

The objective of this project is to introduce genius loci (spirit of place) to the design of apartments and rooms for rent!
Dates :

February, March

Minimum number of persons :

6

Target group :

all persons who are able to express themselves creatively, learn to express themselves creatively and who are in good shape, women and men over the age of 18
Info: info@island-losinj.com