Dolphin watching sunset
Take advantage of this opportunity, take some drinks and snacks while watching the beautiful sunset and spot some dolphins in the open sea.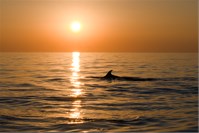 We believe that effective communication, which starts and develops from mutual
respect, is everything. But do you think that's only valid amongst humans?
Well, wait before you see how our Franko the Captain whispers to the dolphins!
Meanwhile, feed your soul with what surrounds you - deep blue and turquoise sea, incredible coves and hidden beaches.
As for the stomachs, have in mind that we don't provide the food and drinks, but you're very much welcome to take some with you:)
We are flexible with schedules, but the best time for sunset is from 6pm to 9pm. Whether you are a family with kids or a group of 6 - 8 persons, we've got a boat to take you on this incredible adventure. Individuals that want to join others are also good to go!
Disclaimer:
*
You won't see Franko wearing the T-shirt saying he is the captain, but you'll find him teaching your kids how to be a good man of the sea. Oh, and they will get a unique certificate for that! :)
**
Franko won't act as a paid entertainer, because he is not one. Still, with his personality and sense of humour, he genuinely represents a local man who lives his life in his way, always surrounded by what he loves and appreciates: people and nature.
***
The probability of seeing dolphins is high, but it can't be guaranteed. After all, we should respect their free choice to go elsewhere, shouldn't we?
What does your heart whisper to you? Maybe the same as what Franko whispers to the dolphins?
More info: info@island-losinj.com