Aquapark Čikat – Water Fun for All!
Spend an unforgettable day at the Aquapark Čikat and grant yourself and your family memorable vacation moments full of fun and relaxation.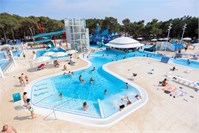 At just 2 km from the center of the town of Mali Lošinj, the new Aquapark Čikat is situated within the Čikat Campsite. Surrounded by a thick pine forest and spreading over 6300 m2, with a water surface of 2400 m2, the new water park is the best choice for a relaxing and fun outing enjoyed by the whole family.
The seawater swimming pools are designed to provide a blend of health benefits, fun and relaxation.
The water park has 5 seawater swimming pools of different sizes and depths. Our youngest visitors will have fun in pools of varying depths, an inflatable castle in the form of a sailing ship, various jets and fountains, water slides, and water ramps which maintain high safety standards. The swimming pools are ideal for relaxing and spending pleasant moments, and numerous water attractions guarantee unforgettable fun for all ages.
Besides the swimming pools, a health snack bar, a terrace bar, a fitness center and locker rooms are also located on the territory of the water park. Parking for all water park visitors is by the entrance to the Čikat Campsite.
The swimming pool complex is fully adapted for persons with disabilities, while trained lifeguards will ensure all visitors can fully relax.
The Aquapark will during the 2016 season be open from May 14 to September 30. Working hours during the shoulder season are from 11 a.m. to 7 p.m., while in peak season (June 24 – August 26) working hours are from 10 a.m. to 8 p.m.
Guests of the Čikat Campsite have free admission to the water park, while other guests are charged for the tickets:
Peak season
June 1 - September 15

Shoulder season
May 14 - May 31
September 16 - September 30

Campsite guests (all ages)

FREE

FREE

OUTSIDE GUESTS:

Children aged 0 - 2,99 years

FREE

FREE

Children aged 3 - 6,99 years

70

40

Persons aged 7 years and over

100

70
More information: info@island-losinj.com