Downhill Lošinj 2018 - Word Cup
Are you planning to join us on Downhill Lošinj 2018.? Need accommodation from April 21st till 22nd or even longer? We have special offer for you. Accommodation nearby the track!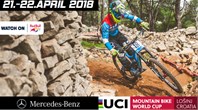 Around 300 competitors from all over the world will descend the 1.8 km of paths and lookouts of the Island of vitality.
Extreme mountain bike race or Downhill, which stemmed from spring training of Slovenian cyclists, and nowadays it is considered as a reputable international race with full support from the Town of Mali Lošinj, Jadranka d.d., Tourism Board of the Town of Mali Lošinj, and Ministry of tourism of the Republic of Croatia.
There are over 250 km of scented paths and promenades on the Island of Vitality, and challenging obstacles in forests appeal to many hikers and cyclists. Considering the increasing trend of cycling around the world, Lošinj will definitely take an important spot on the bike friendly map.
---
---